Our Mental Health Program
Heritage Lane implements positive reinforcement and early intervention. We aim to protect personal dignity and are not reactionary and punitive. Our program is highly individualized to ensure the best possible outcome.
Behavioral Model Using A Positive Approach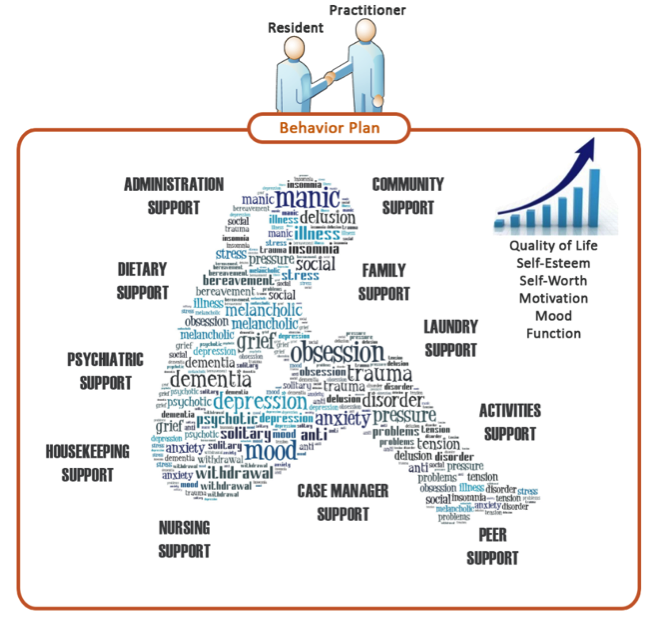 We have developed a structured positive reinforcement model, to help those who suffer from mental illness. Each resident is unique, and we make an effort to focus on their potential. With this reinforcement model and with the proper treatment, proper medication management and proper support, our residents gain simple skills, self-control, self-worth, and confidence.
Each plan is individualized, and the resident is motivated to achieve their goals. Through adherence to an individualized plan, our residents have accomplished great success.
Our Residents
Each resident comes to Heritage Lane with a history of mental illness. Some of that history is recent. We see each resident individually knowing there are a myriad of issues affecting the overall quality of life and ability to function in and outside of the community in which they live.
Heritage Lane Is a Recovery-Based Community
Our program's success is based upon encouraging our residents to be as independent as possible. Our residents have the opportunity to actively participate in planning and negotiating their treatment. They assist in the development of their treatment plan and work towards progressing through each phase. Encouraging our residents to focus on their individual goals helps them work towards a greater quality of life.
Our Mental Health Program Brings Accountability to the Surface
Our Psychiatric Nurse Practitioner establishes goals and expectations and creates a Behavioral Plan of Action (BPOA). A BPOA is used as a tool or road-map for the staff members as they interact and encourage the resident from day to day.
Behavioral Program Phases
Our 4 phase program is the key driver of motivation and progression. As the resident remains compliant to the developed plan, phases are more of a reward system to encourage and motivate. During each phase, the resident has increased opportunities.
We invite you to navigate through the details of our mental health program by clicking on the behavioral program links to the left side of this page.
Considering Heritage Lane Behavioral Assisted Living for Your Loved One? Take our Assessment Now